Crowdsourcing…what is it? According to The American Historian, crowdsourcing is the practice of obtaining information or input into a task or project by enlisting the services of a large number of people, either paid or unpaid, typically via the Internet. "When done well, crowdsourcing can result in widespread interest from the public and engaged volunteers." A great example of crowdsourcing is Wikipedia; an online (open-source) encyclopedia which can be edited by anyone. Wikipedia illustrates what collaborative knowledge creation can look like on a large scale. Within the humanities, crowdsourcing could be used to complete a large task that an institution or non-profit could never dream of completing alone with just volunteers or limited funding. This means that by opening a digital collection up to the public to be processed, or even annotated, a small historical society could get one year's worth of work done in weeks or months depending on the popularity and traffic of the project. That's incredible!
This is a strange time, with many people staying indoors and looking for new hobbies. Crowdsourcing in the humanities is one way you could help your favorite historic institution, and learn some new skills at home. Many historical societies are willing to send (virtually) scanned historic documents for you to annotate or transcribe in your home. This work is tedious but is very helpful to future students and researchers. It also gives you the chance to see historic documents up close and learn something new that pertains to your interests. For example, you could volunteer virtually for an institution which hosts a lot of Revolutionary War materials, if that's what you are into. I will put links to a few of my favorite crowdsourcing projects at the bottom of this blog for you to click through. You may find a new talent in transcription!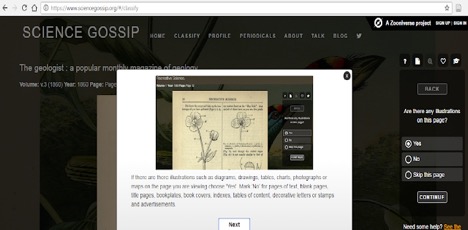 I decided to try crowdsourcing for myself. I first tried Zooniverse. According to their website, Zooniverse "enables everyone to take part in real cutting edge research in many fields across the sciences, humanities, and more. The Zooniverse creates opportunities for you to unlock answers and contribute to real discoveries." I chose to work on "science gossip." The task here is to look at pages of scientific books and journals and identify any illustrations. Once an illustration is identified with a rectangle drawn around the image, the next task is to type in what the illustration shows, the scientific name of what's in the illustration, and then to identify any contributors. This was not difficult to do and required simple Google searched to find the scientific names of certain sea creatures and plants. It will be neat to know that when finished, I anonymously helped to annotate the pages of a historic scientific document! Crowdsourcing is a fun way to pass some time at home, while learning something new. This type of digital project is a BIG help to historic institutions, and now is the perfect time to give it a try.
LINKS & ADDITIONAL RESOURCES:
Transcribe Archives: Citizen Archivist
Military History: Papers of the War Department; 1784-1800: Our online and open access model of publication brings these fascinating primary sources to non-scholarly audiences as well. Military history enjoys a wide audience, and those amateurs, enthusiasts, interested citizens, and, of course, active and retired members of the military will also seek out this remarkable collection. Our overall ambition, in sum, is to use the best technology of the early twenty-first century to recover and make widely available this vital record of American history that was seemingly lost at the dawn of the nineteenth century.
Oral Histories: Storycorps: StoryCorps is built on an uncompromising commitment to excellence throughout the organization that includes an intense focus on the collecting, sharing, and preserving of people's stories; high-quality organizational management; and the care and support of an extraordinary work environment where respect and dignity are paramount.
1. THE INTERVIEW SESSION IS AT THE HEART OF STORYCORPS. WE TREAT PARTICIPANTS WITH THE UTMOST RESPECT, CARE, AND DIGNITY.
2. STORYCORPS MAINTAINS A RELENTLESS FOCUS ON SERVING A WIDE DIVERSITY OF PARTICIPANTS.
3. STORYCORPS IS A PUBLIC SERVICE.

---
Written by Sarah Sutton, Manager of Educational Programs.