CHANGING FREQUENCIES: WORKS BY JON CARSMAN
November 18–Spring 2023
Featuring selections from the Everhart's collection, this show highlights Wilkes-Barre, PA native Jon Carsman's (1944–1987) distinctive silkscreens as well as his acrylic, pen, and watercolor works. Much of his catalog includes pieces inspired by the natural landscape and architecture of Northeastern Pennsylvania, encapsulated in vivid work often described as "super realism" or "new realism." Carsman became widely renowned, exhibiting alongside fellow silkscreen artist Andy Warhol and Abstract Expressionist Hans Hofmann.

The Everhart is proud to share the work of this local master and celebrate his ties with the institution, having hosted Carsman's first solo exhibition in 1968 and worked closely with the artist through his final years.
THE READER: PAINTINGS BY TRAVIS PRINCE
October 1–December 31, 2022
Merging painting and literature, The Reader: Paintings by Travis Prince presents viewers with images of African Americans reading works by African Americans. Depictions of books by authors such as Martin Luther King Jr., Malcolm X, and Frederick Douglass being read by people in everyday contexts invite viewers to contemplate the social and political issues of race throughout America's history into the present.
Included in the series "The Reader" are 11 works by Travis Prince, which are presented in this exhibition alongside readable copies of the books portrayed within. It is the hope of the artist that The Reader sparks meaningful conversations on ways to fill gaps in our knowledge and conceive of new strategies to forge an inclusive and harmonious future.
Adult supervision is recommended for viewers under age 18.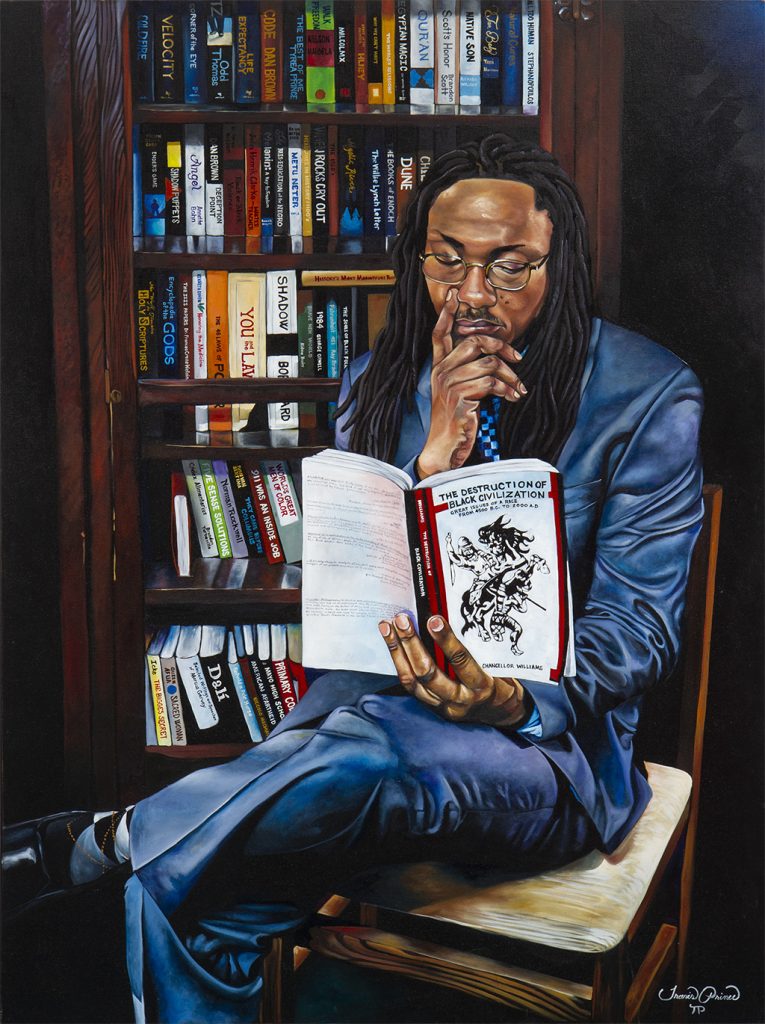 IN FULL BLOOM: FLOWERS OF THE EVERHART
August 6—December 31, 2022
In Full Bloom: Flowers of the Everhart showcases the essence of flowers as captured in painting, drawing, 3D art, and photography. The exhibition draws from the Museum's rich collections to celebrate flowers' ephemeral beauty and efforts to preserve it through diverse artistic methods and styles across cultures and time. Artists featured in this exhibition include Jon Carsman, Evelyn Metzger, Margaret Oettinger, and more.
EVERHART RETROSPECTIVE
Ongoing
This special exhibition showcases reproductions of historic photographs of the Everhart Museum through the decades. The photographs depict how the Everhart's building has changed over the decades as well as the many activities that have taken place within the Museum and on its grounds. Works are rotated in and out to showcase different parts of the Everhart's history.