With over a dozen galleries to explore, the Everhart has something for everyone to enjoy!
Museum collections have the power to inspire creativity, motivate artistic expression, and stimulate local pride. Exhibitions are an essential component of the Everhart Museum's mission. As a regional museum, the Everhart is committed to presenting works and objects that celebrate the cultural heritage and natural history of not only Northeastern Pennsylvania, but also of places around the world. The Everhart invites you to explore the collection throughout the three-story building.
NATURAL HISTORY
FOSSIL GALLERY
The Fossil Gallery includes fossil specimens from millions of years ago, spanning the Cambrian to the Quaternary period; fossil casts of prehistoric animals, including a fully-articulated Stegosaurus and a Tyrannosaurus rex skull; artwork depicting dinosaurs and Ice Age mammals by Charles Robert Knight.; and more.
---
BIRD GALLERY
Featuring over 700 bird specimens, many of which having been part of Museum founder Isaiah Everhart's private collection, the Bird Gallery has been a visitor favorite since 1908. The Gallery encompasses birds from around the world, from those found locally to the vibrant exotic birds found in the tropics. Several extinct and endangered species of bird, such as the passenger pigeon, whooping crane, and the ivory-billed woodpecker, are represented.
In addition to the expansive bird collection on display, the gallery includes four lifelike dioramas of native Pennsylvania habitats, as well as several cases of assorted mammals, reptiles, and amphibians from the Museum's massive taxidermy collections.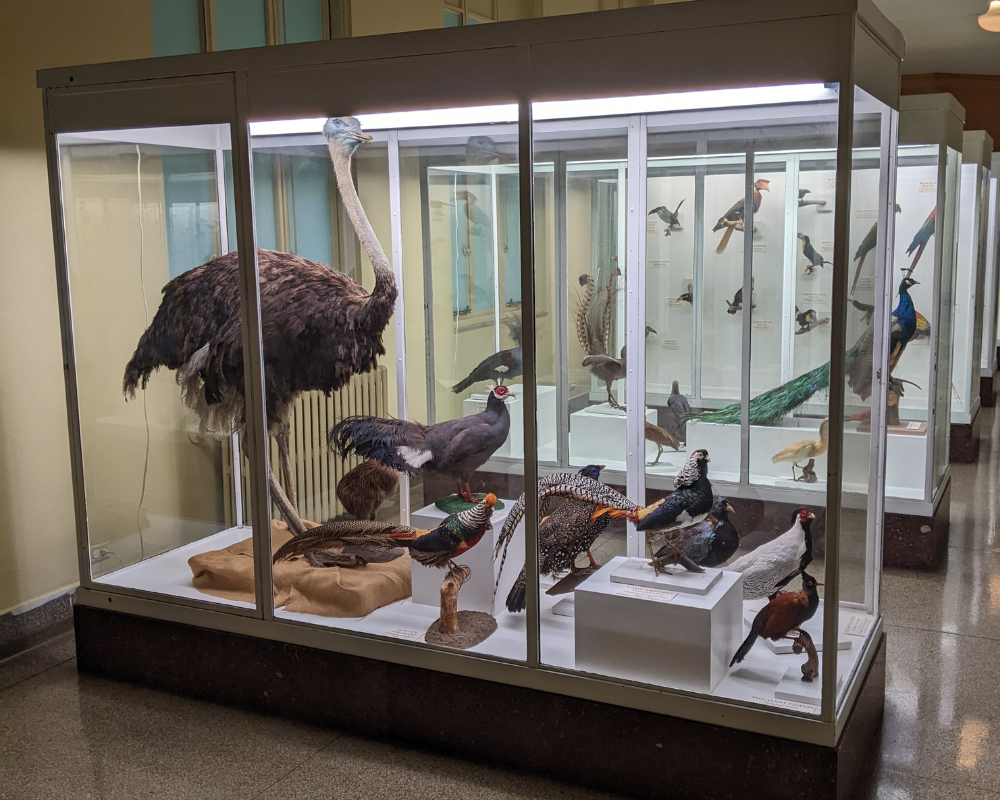 ---
SCIENCE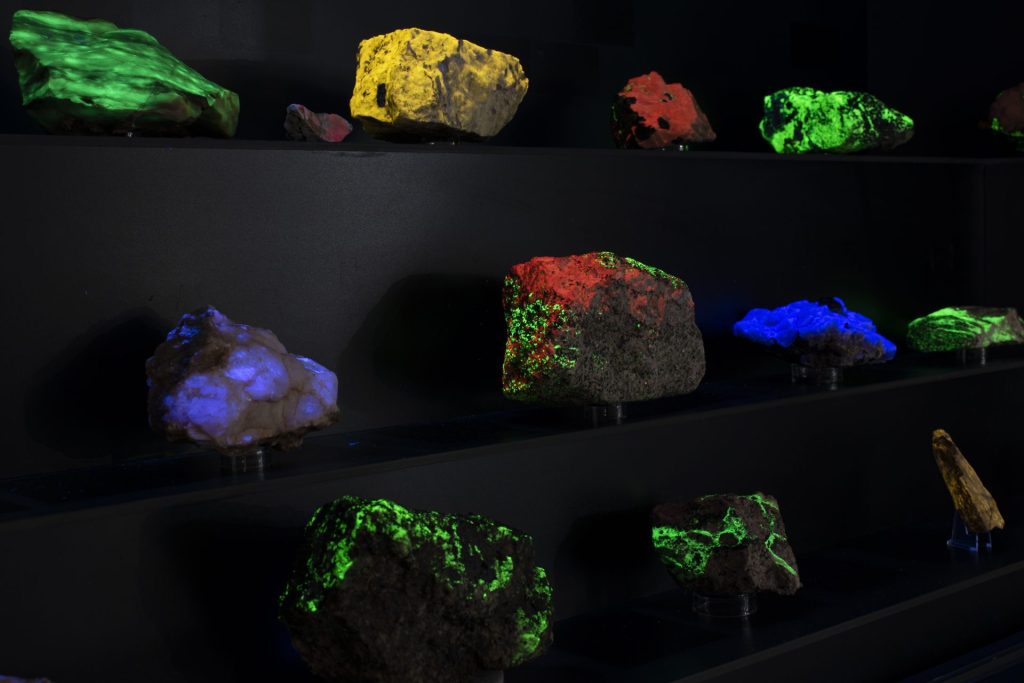 ROCKS AND MINERALS GALLERY
The newly-renovated Rocks and Minerals Gallery features a fluorescent rocks and minerals case; a variety of regionally-collected rocks and minerals; educational exhibits highlighting rock and mineral properties and origins; and a showcase of exceptional specimens collected both locally and from around the world.

Learn about how fluorescence works to produce vibrant colors, how different types of rock form on and beneath the Earth's surface, what makes minerals fracture and cleave in specific patterns, why Pennsylvania is a trove for mineral collecting, and much more!

ART
MAIN GALLERY
The second-floor Main Gallery features a selection of works that tell the story of how the Museum's collection developed since 1908. In addition, several galleries are dedicated to regional arts including works by John Willard Raught, Hope Horn, Frederic C. Knight, and Dorflinger Glass. The Everhart has a long history of collecting and supporting regional arts and has amassed a substantial heritage collection. Pieces are changed out in the art galleries often so that the Museum can share more of the collections entrusted to it.
JOHN WILLARD RAUGHT GALLERY
John Willard Raught (1857–1931) was a painter from Dunmore, PA known for his depictions of the Northeastern Pennsylvania countryside, cityscapes, and industrial landscapes. In his youth, he developed this passion as he sketched scenes of the nearby Pocono Mountains.

Raught trained in New York and Paris before returning to the landscapes of the region that were his original inspiration, utilizing styles of Impressionism, Tonalism, and Realism, to interpret them. Among his most distinguished pieces are his portrayals of the area's coal breakers, which were made to express his concern for the environmental ravages of the industry.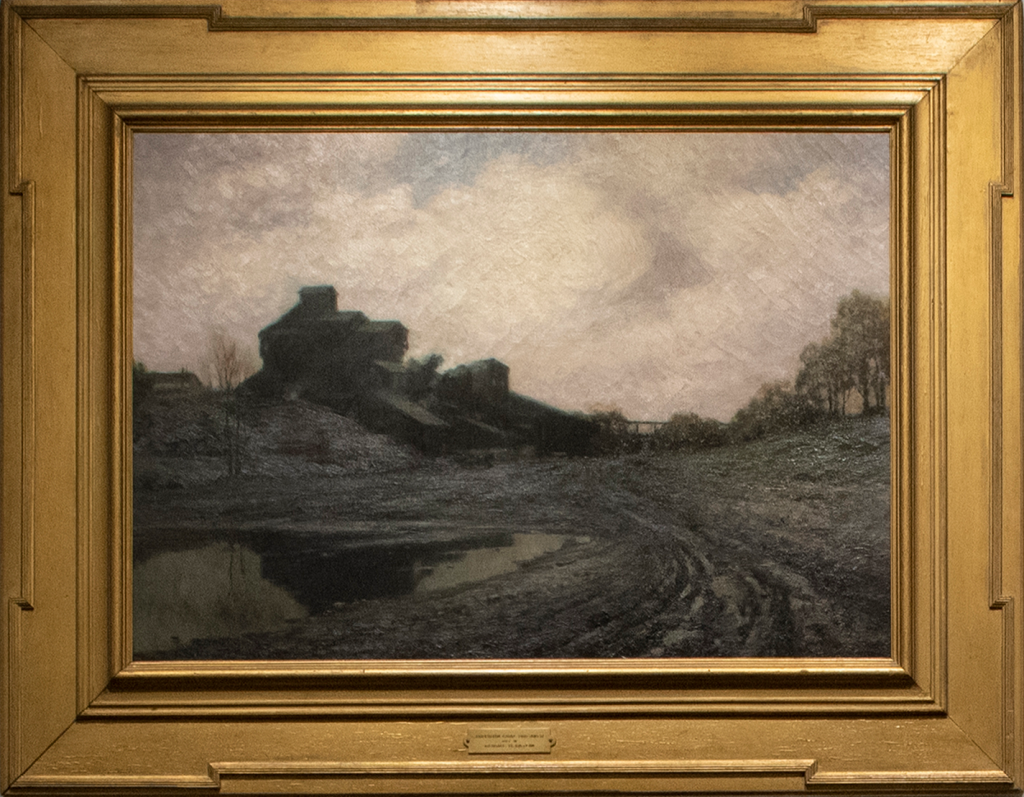 HOPE HORN GALLERY
Hope Horn (1920-2001), a Scranton, PA native, was a painter, sculptor, and educator who spent her life creating and teaching art. Aside from a few years in the 1970s that she spent training and working in Florence, Italy, she dedicated her life to the regional art community of Northeastern Pennsylvania, including spending many decades as an art instructor at the Everhart Museum.
Hope Horn's artworks are known for being representational yet abstract at the same time, as she painting many ordinary objects, like an orange, in abstract scenes by painting them isolation. Horn wrote of her own pieces, "I am fascinated with the dynamics of visual thought—the energies contained in shape and form and color."
FREDERIC KNIGHT GALLERY
Frederic C. Knight (1898-1979) was a painter from Philadelphia who lived and worked in Scranton, PA for most of his life. His primary medium was oil and his subjects included portraits, still lifes, and landscapes, both rural and industrial in a variety of compositional styles.
DORFLINGER GLASS GALLERY
(Temporarily closed and reopening May 18)
During the 1950s, the Everhart began collecting glass that reflected nearly 15 centuries of glassmaking. The Museum added to this collection by acquiring a large selection of Dorflinger Glass wares in the 1960s. Dorflinger Glass, which began operation in 1865, was long located in White Haven, PA and became arguably the most important glass works in the country, requested by the Vanderbilts, Goulds, Whitneys, Pierces, West Point Military Academy, and more.

The Everhart has an immense collection of Dorflinger Glass, which is regularly changed out for display.