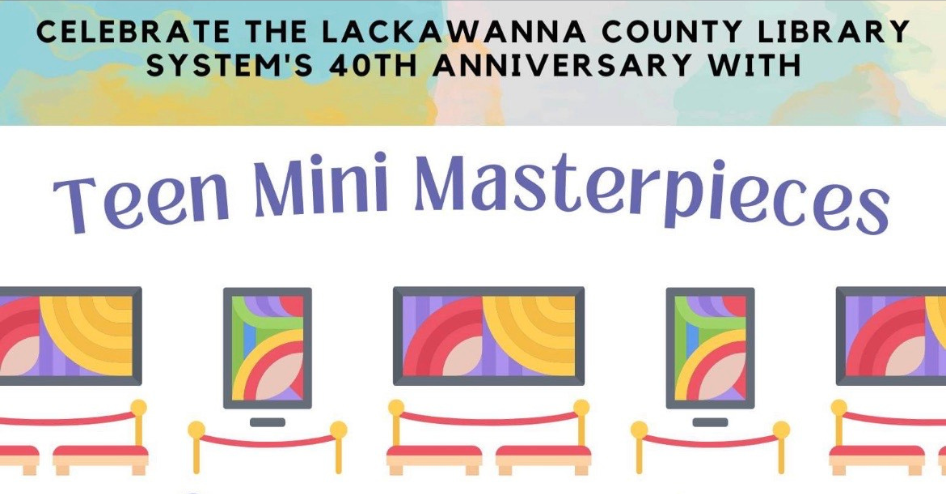 TEEN MINI MASTERPIECES
September 1–October 1
Join us in celebrating the Lackawanna County Library System's 40th Anniversary with Teen Mini Masterpieces, an exhibition of art by young artists from across Northeastern Pennsylvania.During a free summer program hosted by the library system, 40 artists created miniature works of art 4″ x 4″ canvases.
SCHOLASTIC ART GOLD KEY EXHIBITION
February 2–February 26, 2023
The Gold Key Award Exhibition showcases the work of all Gold Key Award recipients for the entire Northeastern PA Region of the Scholastic Art Awards. The Awards are an annual juried multimedia art contest for students Grades 7–12 that have been facilitated by the Everhart since 2018. Gold Key Awards go to students who demonstrate exemplary ability in their disciplines.

For more info and a list of winners, click here.
THE READER: PAINTINGS BY TRAVIS PRINCE
October 1–December 31, 2022
Merging painting and literature, The Reader: Paintings by Travis Prince presents viewers with images of African Americans reading works by African Americans. Depictions of books by authors such as Martin Luther King Jr., Malcolm X, and Frederick Douglass being read by people in everyday contexts invite viewers to contemplate the social and political issues of race throughout America's history into the present.
Included in the series "The Reader" are 11 works by Travis Prince, which are presented in this exhibition alongside readable copies of the books portrayed within. It is the hope of the artist that The Reader sparks meaningful conversations on ways to fill gaps in our knowledge and conceive of new strategies to forge an inclusive and harmonious future.
EVERHART RETROSPECTIVE
Spring 2020–December 31, 2022
This special exhibition showcases reproductions of historic photographs of the Everhart Museum through the decades. The photographs depict how the Everhart's building has changed over the decades as well as the many activities that have taken place within the Museum and on its grounds. Works are rotated in and out to showcase different parts of the Everhart's history.
Meaningful Objects: Art and Artifacts from the Homes of the Everhart's Board and Staff
February 18–June 5, 2022
Meaningful Objects, on view February 18 through June 5, showcases beautiful, eclectic and interesting objects from board and staff members that hold special sentimental value. Each piece, whether a practical everyday object or a work of art, is joined by a narrative text illuminating why it occupies a special place in the owner's heart and mind. Through this exhibition, the community may better understand the people who drive the Everhart's mission and what matters to them.
2022 Scholastic Gold Key Award Exhibition
February 3–February 27, 2022
The Everhart Museum is proud to facilitate the 2022 Scholastic Art & Writing Awards for the Northeastern Pennsylvania region and host an exhibition highlighting the work of all Gold Key Award recipients from February 3 through February 27. The Scholastic Art & Writing Awards is the nation's longest-running and most prestigious recognition program for creative teens in Grades 7–12.
The program features art created by students living in Clinton, Columbia, Lackawanna, Luzerne, Lycoming, Monroe, Montour, Northumberland, Pike, Schuylkill, Snyder, Susquehanna, Union, Wayne, and Wyoming Counties.
Bold Independence: African American Quilts from the Collection of David Whaley
September 3, 2021–June 5, 2022
Bold Independence features quilts made during the second half of the 20th century by eleven African American women from Mississippi and Alabama. A number of the works are by the famous Gee's Bend quilters and a majority were produced in the Black Belt region of Central Alabama.
Every Stitch Counts: Works from the Social Justice Sewing Academy
September 3–December 24, 2021
Developed by the Everhart Museum in conjunction with the Social Justice Sewing Academy (SJSA), a national youth education program that bridges artistic expression with activism to advocate for social justice, this exhibition features textiles created by either individual artists or collectives highlighting social justice issues that have affected the artists, their families, and their communities. The powerful images create unique narratives addressing issues such as racism, gun violence, education, immigration, and poverty. The SJSA encourages young people to use textile art as a vehicle for personal transformation, community cohesion, and social change.

Away From Home: American Indian Boarding School Stories
June 19-August 15, 2021 | Maslow Galleries

This exhibition explores off-reservation boarding schools in its kaleidoscope of voices. Visitors will explore compelling photographs, artwork, interviews, interactive timelines, and immersive environments, including classroom and dormitory settings, illuminate first-person accounts. Experiences of gaining things useful and beautiful out of education, despite formidable, fifty-year agenda that mostly maligned Native American capabilities, call us closer; each trial, each turning of power seeded in human survival, strengthening Indigenous identity.
This exhibition is made possible by NEH on the Road, a special initiative of the National Endowment for the Humanities. It was adapted from the permanent exhibition, Away From Home: American Indian Boarding School Stories, organized by The Heard Museum in Phoenix, Arizona.
Lock & Key: Our Household Objects
February 6 – May 30, 2021
Featuring pieces from the Everhart's permanent collection, Lock & Key: Our Household Objects will exhibit paintings, furniture, textiles, kitchen tools, and leisure items that represent what "home" means across different eras and cultures. The exhibition will examine what is put in places of importance in our homes and consider what otherwise mundane objects have significance due to their roles in our everyday lives. The displayed objects analyze questions like: How do societal expectations influence what we put in our personal spaces? How do the objects in our homes reflect our traditions and family history? Does the concept of "building a home" have a place in the 21st century?
Eyes on America
September 3, 2020–March, 2020*
Drawing on the strengths of the Everhart's permanent collection, Eyes on America showcased traditional and unconventional symbols of America. The displayed artwork attempt to answer questions like: What does it mean to be American? How have Americans viewed themselves both historically and in present-day? Why have certain images or symbols become associated with American culture?

*Shortened due to COVID-19 pandemic
Forming The Maslow Collection: A Reflection on the New York City Art Scene in the '80s and '90s
February 7–March 2020*
The New York art scene of the 1980s and '90s, which was inspired by changing technologies, globalization, industry, and pop culture, continues to influence contemporary art. Featuring select pieces from The Maslow Collection, Forming the Maslow Collection, consists of art created within and reflective of this pivotal movement in art history.

*Shortened due to COVID-19 pandemic
The Essence of Color:
The Art of Victoria Lowe
September 27–December 30, 2019

This exhibition explores the abstract paintings by Alabama-based artist Victoria Lowe. Inspired by stargazing and the feeling of sublime connectedness to things beyond the physical environment and conscious comprehension Lowe's painting include abstract fields activated by color.

Another Way of Remembering
August 22–December 30, 2019
Recent research has shown that the process of observing and making art can improve brain function, and potentially slow down the progression of the disease and overall memory loss. In support of this growing body of research, the Everhart Museum has undertaken a three-year research project with the Wesley Village campus of United Methodist Homes, as a means of examining how the process of making art can transform the effects of memory recall for adults with early-stage Alzheimer's. This show includes work created by participants in this program, inspired by pieces from the Museum's galleries and exhibitions.
The Good News
May 17–September 9, 2019
The Good News is an exhibition of photography by Zak Zavada that documents spontaneous moments of love, beauty, envy, horror, boredom, and joy. The Good News is that everything is not the way it appears to be. The subject of each photo is meant to be interpreted through the visitor's personal lens.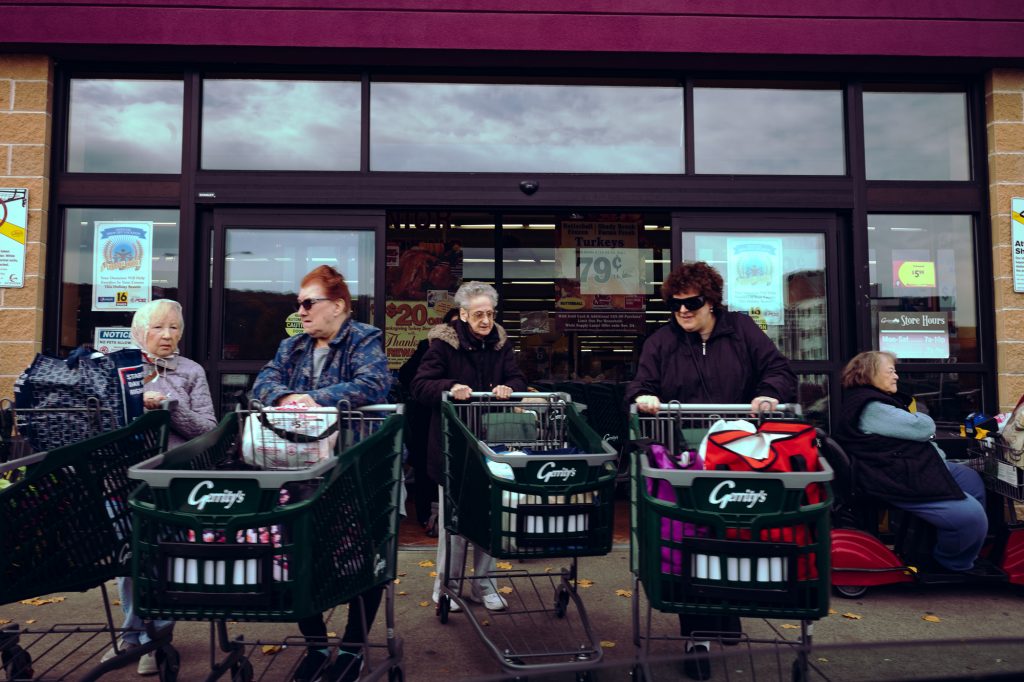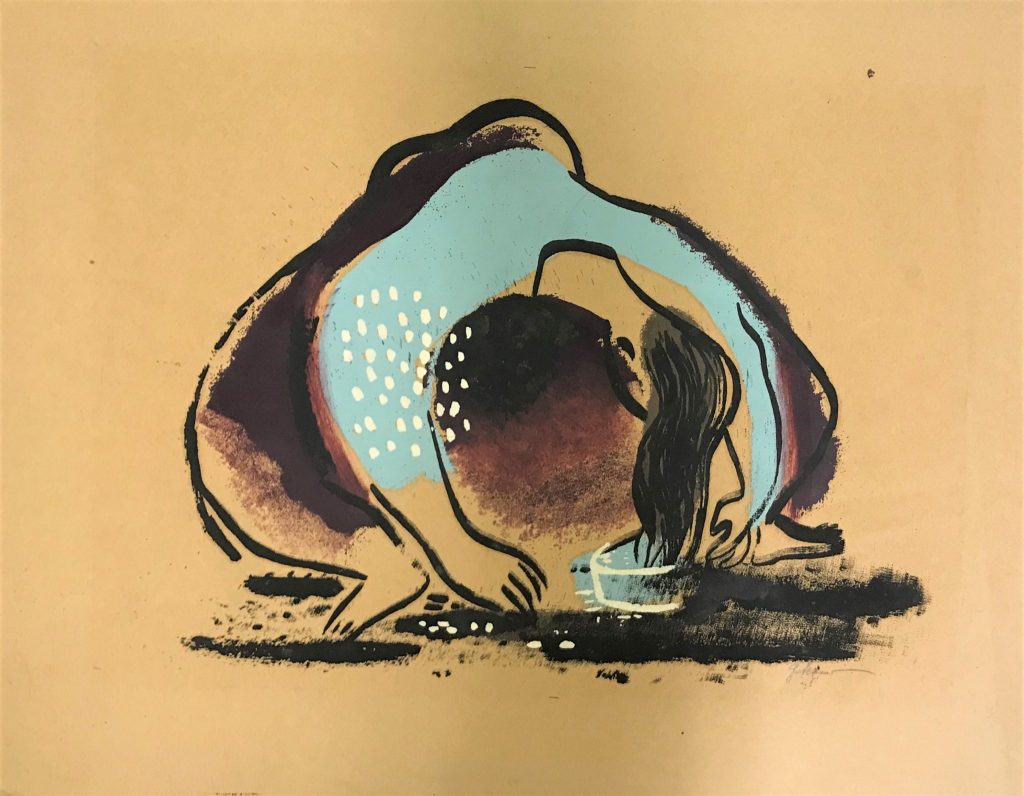 Works on Paper
May 17–September 9, 2019
Works on paper make up one of the largest portions of the Everhart's permanent collection. Works on Paper seeks to showcase the variety of artworks that comprise the Museum's collection while specifically highlighting works that depict the human form and the human condition.

Queer & Here
May 31–June 17, 2019
Queer & Here seeks to commemorate the 50th anniversary of the Stonewall Uprising, a series of riots that served as major catalyst for the modern-day LGBTQ rights movement in the United States. Pride Month has since taken off as a point of celebration in queer identity and a reminder that the fight for equality continues to this day. As tribute to Pride Month, Queer NEPA and the Everhart Museum will be co-hosting an exhibition showcasing art by ten local LBGTQ+ creatives.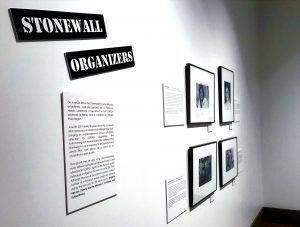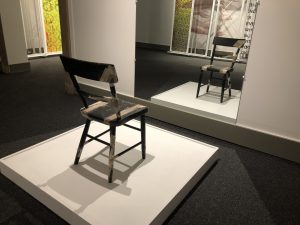 OurSELF
February 1–April 29, 2019
OurSELF seeks to create empathy and open dialogue about mental health through a thoughtful, interactive art installation. This exhibition takes the visitor on a journey through a series of sequential experiences that represent the human experience during the span of an hour, a day, a year or a lifetime.
Exhibition and programming sponsors include: Everhart Museum, Frieder Foundation, the Kiser Family, Lackawanna County, Moses Taylor Foundation, Pennsylvania Council of The Arts, the Pettinato Family, and Posture Interactive.
HerSELF
February 1–April 29, 2019
Amy Kiser found her voice as an artist and a survivor through a series of paintings and lithographic prints. Kiser's work is reflective of powerful and traumatic life experiences which she conveyed through the use of color washes and line work that create overlapping layers onto her subject matter. The result is often haunting. These emotional depictions, most often of women and animals, were a source of power for Kiser.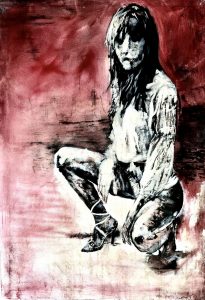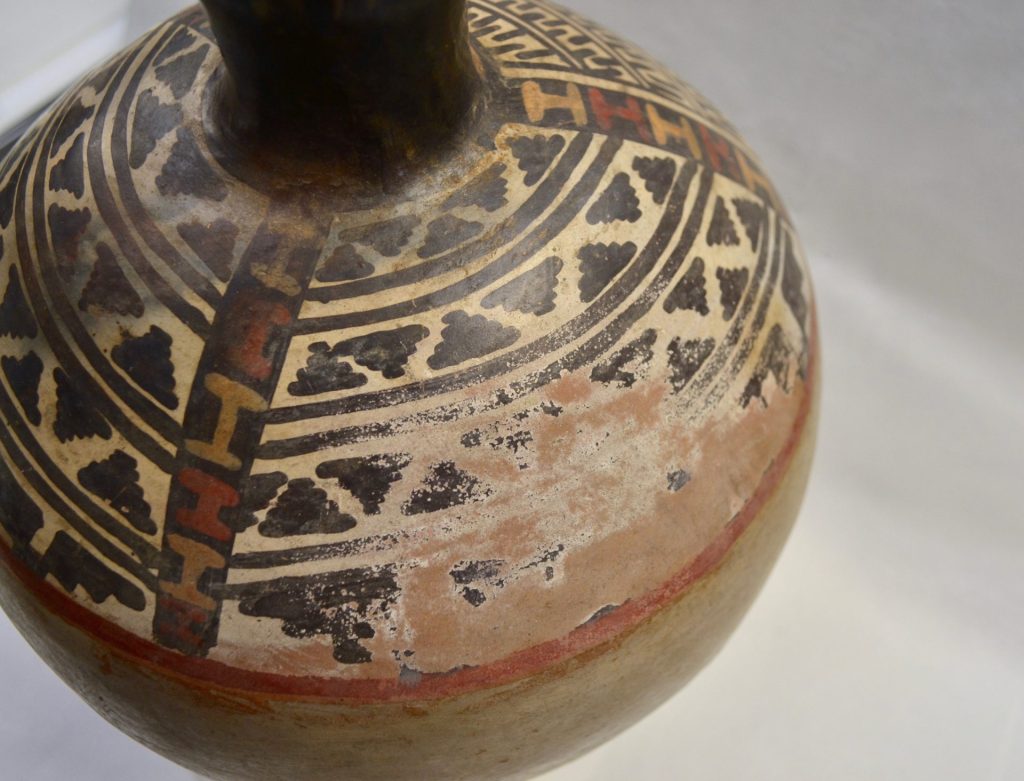 Preserved: Traditions of the Andes
March 9–April 7, 2019
For a short time only, the Everhart will explore the traditions of ancient Andean culture. Textiles, pottery, and other South American artifacts from the Museum's collection will be used to discuss the science of preservation and how artifacts like these have found their way to the Everhart. This exhibition will allow you to see how Andean traditions have evolved and how some practices are continued today by living indigenous communities.
This exhibition was underwritten by:

Hunt Slonem
September 28–December 31, 2018
Called a Neo-Expressionist, Hunt Slonem combines Abstract Expressionist techniques with mysticism and is best known for his paintings of tropical birds and bunnies. He uses an abstract platform for his traditional subject matter, developed with gestured brushwork and bold Warholesque repetitive compositions.

This exhibition highlights a series of works that were created early in his career and informed by his time spent in Cholula, Mexico while attending the Universidad de las Americas. The vibrant large-scale paintings produced between 1978 – 1986 are a reflection of the time spent exploring ancient Aztec archaeological sites.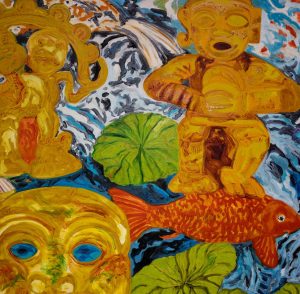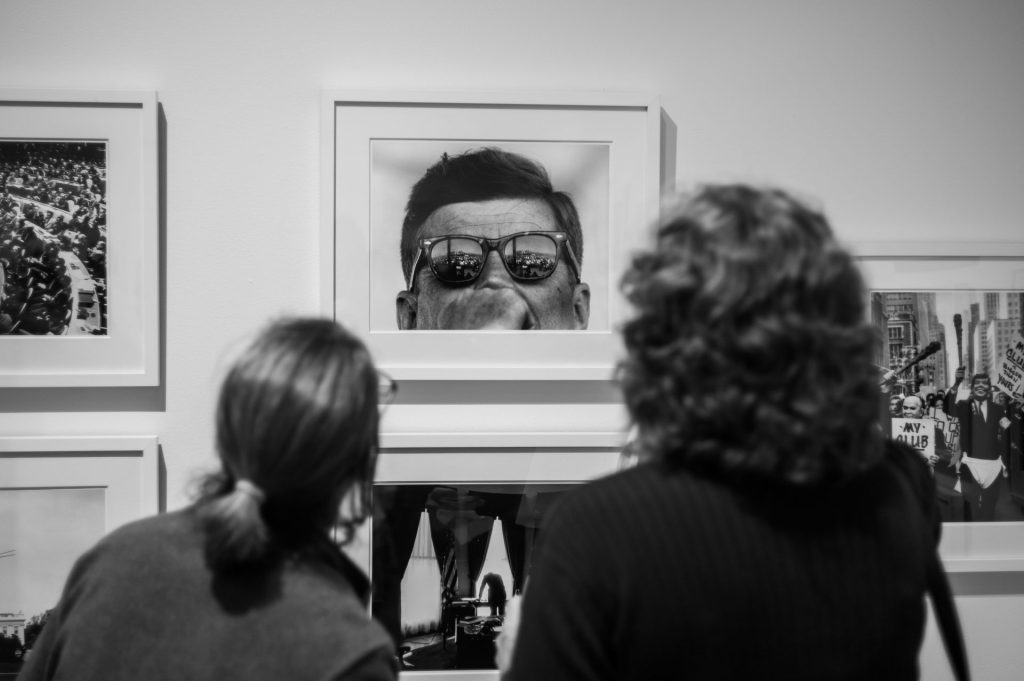 American Visionary: John F. Kennedy's Life and Times
October 5–December 31, 2018
American Visionary: John F. Kennedy's Life and Times brings together seventy-seven images culled from the John F. Kennedy Presidential Library, Getty Images, private collections, and the Kennedy family archives. The dramatic scope of Kennedy's life is evident in these photographs—from his first congressional bid as a decorated war hero in 1946, his marriage to Jacqueline Bouvier in 1953, his run for the White House in 1960, and his role as commander in chief, to the tragedy of his death in Dallas in 1963.
American Visionary: John F. Kennedy's Life and Times is presented by the Everhart Museum and Wiener Schiller Productions in cooperation with the John F. Kennedy Library and Foundation. Generous support for the exhibition is provided by the Governance Institute and the Blanche and Irving Laurie Foundation. Additional support provided by Stephen Kennedy Smith and Getty Images.
The exhibition was underwritten by: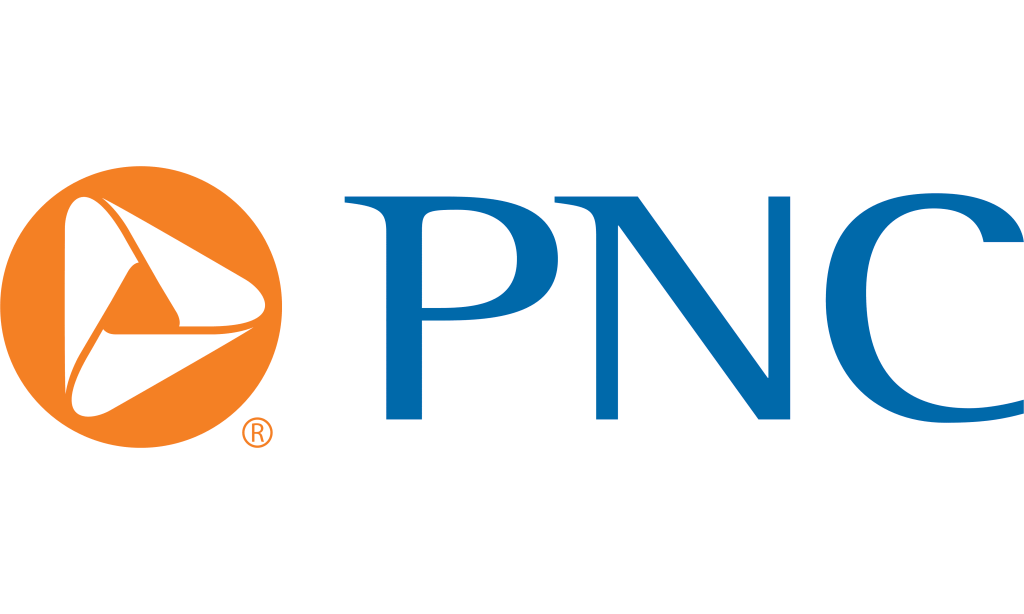 Kathleen Elliot
May 25–September 3, 2018
Kathleen Elliot creates intricate plant-inspired plant sculptures, such as imaginary botanicals of flameworked glass. Leaves, fruit, seed pods and flowers are reimagined in new varieties of organic life. Natural forms appear in unexpected colors and in fantastic, new combinations. Through this process, the vocabulary of observed botany becomes a vehicle for personal expression. Exhibition organized by Katharine T. Carter & Associates.

New Frontiers
May 28–September 3, 2018
In coordination with the Eighth International Conference of Contemporary Cast Iron, the Everhart is pleased to present New Frontiers.
Considering the conference theme, "Post Industrial Iron: Divergence, Dialog, and New Directions", this juried exhibition emphasizes the idea of time, travel, movement, place, space, and connections. This exhibition features work by Kevin Dartt, Naomi Campbell, Frank DePalma, Alex Grabiec, Paul Higham, Stacey Holloway, Rian Kerrane, Lauren Koch, Coral Penelope Lambert, William Prtune, Andre Rubin, Woody Stauffer, and Michael Richard Thron.
MAKING FACES: Portraits by John Kascht
February 2–May 7, 2018
MAKING FACES is a retrospective of drawings and paintings by caricature artist John Kascht, whose irreverent work turns the leisurely pastime of people-watching into an Xtreme sport. Over a 30 year career as an illustrator, Kascht has created work for album covers, theater posters, gallery collections, and most major publications.

MAKING FACES features portraits of historical and contemporary notables, and includes subjects of interest to political junkies, moviegoers, music lovers, history buffs, artists and even people who hate art shows. In addition to entertainment, the show delivers thought-provoking glimpses into the serious intent behind the funny pictures. Visitors to the show are sure to leave smiling and it's likely they won't look at faces – or the mirror – the same way again.