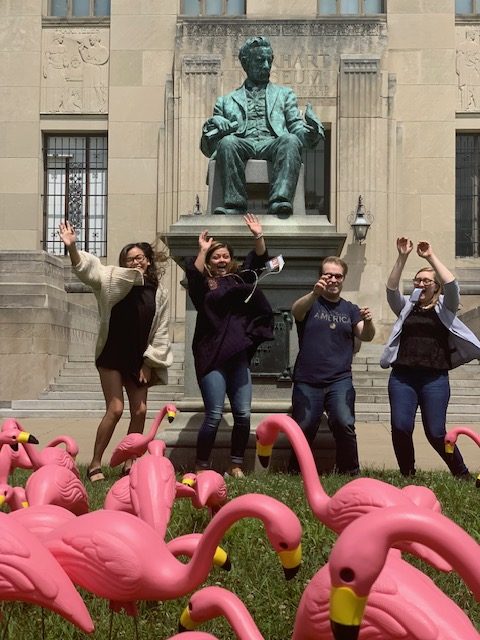 Fall 2020 College Internship Program
Application Deadline: Monday, July 27, 2020, by 11:59 PM (EST)
The Everhart Museum offers an unpaid fall internship opportunity for undergraduate and graduate students, and recent graduates from any college or university. Interns will be assigned projects under a department supervisor and will receive a broad introduction to the Everhart's Natural History and Fine Art collection. The Fall 2020 internships consists of an orientation and opportunities to network with museum staff.
All questions regarding Fall 2020 Internship positions can be sent to internships@everhart-museum.org.
Available Positions
---
How to Apply
Prior to completing the online application form, you should prepare the following:
A 500-word (max) essay addressing how your skills, interests, and experiences relate to the position/department to which you are applying*
A resume or curriculum vitae*
Transcripts*
1 letter of recommendation from a current or former college professor, academic advisor, or employer who can speak to your qualifications for this internship. The letter must be sent separately via email to internships@everhart-museum.org with the applicant's full name in the subject line.
*Please follow these file naming conventions: last name, first name_document type. (Example: "Lastname, Firstname_resume.pdf")
Academic Credit
The Everhart Museum welcomes the opportunity to work cooperatively with schools that seek to grant academic credit for internships. Applicants are encouraged to initiate arrangements for credit with their colleges or universities. The Everhart Museum does not grant academic credit.
Eligibility & Slection
Enrolled undergraduate and graduate students, and recent graduates from any college or university are eligible to apply for unpaid internships. High-school students are not eligible.
Interns are offered an internship in a department based on their academic background, professional skills, interests, and career goals. Finalists may be contacted for interviews in person or by telephone, and accepted interns will be notified mid-April 2020. All interns will be required to complete criminal background checks upon acceptance of position.
Interested in Volunteering?
Volunteers and docents have the opportunity to gain exposure to the workings of a major regional museum through participating in all aspects of operations. Volunteers can work in a number of different departments and provide invaluable support. Our volunteers possess a passion for and appreciation of learning, a flexible attitude, and an understanding that reliability is critical.
Clearances
Certain individuals, in order to work or volunteer with children, are required to obtain clearances which may include the following: Pennsylvania Child Abuse History Clearance, Pennsylvania State Police Criminal Record Check, and Federal Bureau of Investigation Criminal Background Check.
If you have questions regarding the clearance process, please visit www.KeepKidsSafe.pa.gov. Individuals seeking clearances can go directly to www.compass.state.pa.us/cwis to create an individual account and apply for their child abuse clearance electronically.
Thank you for your continued commitment to keeping Pennsylvania's children safe.