As we exit these final weeks of summer, our country laments the conclusion of the months of Independence. Americans raise their glasses once more to the overthrow of foreign tyranny, the season's last fireworks exploding in the heavens. Bald eagles soar over amber waves of grain. The Star-Spangled Banner yet waves. Freedom abounds, or so we think.
In the summer months of the 1970s when the Kent Bicentennial Portfolio committee commissioned 12 American artists to paint their personal definitions of independence, they undoubtedly expected portraits of George Washington, the American Revolution, or other white-washed images of United States history. But Pop Artist and Abstract Expressionist Fritz Scholder had something different in mind. Born in 1937 in Breckenridge, Minnesota, Scholder claimed primarily German and French ancestry. His paternal grandfather, however, hailed from the Luiseño people, or Payómkawichum (the People of the West), of southern California, making Scholder one-quarter Native American. In his childhood, the artist's family moved across the Midwest to accommodate his father's job as a School Administrator for the Bureau of Indian Affairs. It was during this time that Scholder discovered his love of painting. Attending highschool in Pierre, South Dakota, a young Scholder came under the influence of teacher and renowned Sioux artist, Oscar Howe. He was then encouraged by Howe and his artistic inclinations to enroll in the Mid-West Art and Music Camp at the University of Kansas. There, Scholder received the title of Best Boy Artist and President of the Art Camp. His talent was evident, but it was not until after college that Scholder drew inspiration from his Luiseño heritage and contact with Native Americans for his art.
In 1957, young Scholder and his family moved to California, where he studied art at Sacramento City College. He came into contact with Wayne Thiebaud, one of the most well-known American Pop-Artists. Thiebaud encouraged his mentee to explore Modern and Pop Art styles–the origin of Scholder's vivacious color schemes–and to create his first gallery. A huge success, Scholder's next exhibition was held at Sacramento's Crocker Art Museum. The young artist soon became renowned throughout the region, with shows at places like the Palace of Legion of Honor. Upon graduation, in 1960, Scholder received an invitation to study at the Rockefeller Indian Art Project at the University of Arizona. He accepted, but he vowed never to depict Native Americans within his art. He resented the stereotypical portrayal of the "noble savage" of Native Peoples created for tourists. In an interview with the Chicago Tribune, Scholder observed:
"People don't really like Indians. Oh, they like their own conceptions of the Indian- usually the Plains Indian, romantic and noble and handsome and somehow the embodiment of wisdom and patience. But Indians in America are usually poor, sometimes derelicts outside the value system, living in uncomfortable surroundings. We have really been viewed as something other than human beings by the larger society." 
He instead focused on abstract landscapes. Upon receiving a MFA degree in 1964, Scholder accepted a position as the instructor in Advanced Painting and Contemporary Art History at the newly formed Institute of American Indians Arts in Santa Fe, New Mexico.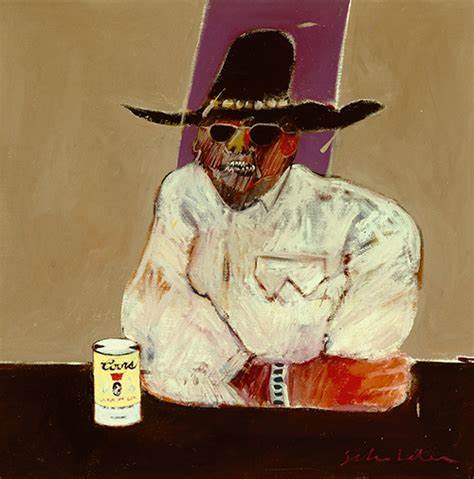 It was here he broke his vow. In 1967, Scholder compelled his students to create an "honest" representation of modern Native Americans. Frustrated that his class fell into the "noble savage" stereotype, Scholder gathered his fiercely colorful pallet and mismatched canvases and marched into his nearby studio to paint "Indian No. 1", the first of his "Indian Series" that lasted into the 1970s. He aimed to highlight the contemporary realities of Native American existence. His paintings were the first to depict Native peoples with American flags, beer cans, and cats. According to Scholder, "his target was the loaded national cliché and guilt of the dominant culture". His 1969 work, "Indian with Beer Can," is a prime example of this as it sheds light on alcoholism on reservations.
Scholder heralded in a revitalization for the Native American rights campaign and for Native artists. In what he described as "Real, not Red", his work inspired an entire generation of Native American painters. In 1970, Scholder created his first major project, a suite of lithographs   called "Indians Forever" for the Tamarind Institute. The first book of his works, Scholder/Indians, was published within the same year. He was invited to art conferences and universities across the country such as Princeton and Dartmouth. In 1972, Scholder held an exhibition with former student T.C. Cannon in Washington D.C. The show was such a success that it later traveled to Romania, Yugoslavia, Berlin, and London. Three years later, a documentary on Scholder's work was released on PBS and a book of his works was published by the New York Graphic Society.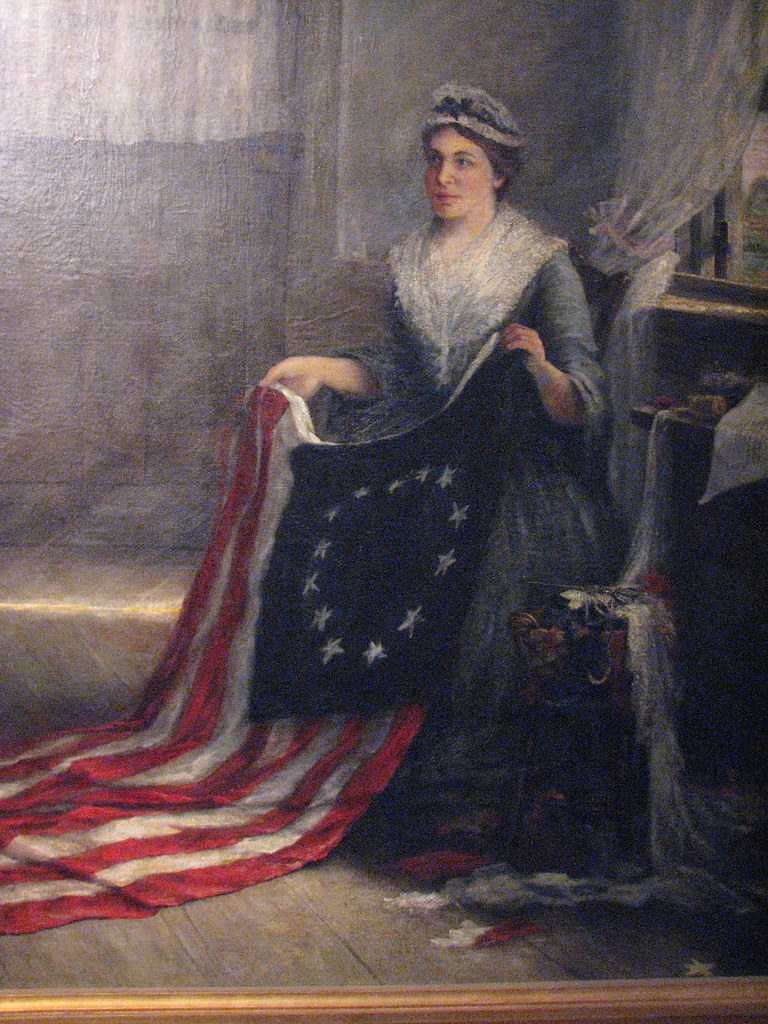 Then came the 1976 Kent Bicentennial Portfolio. Fritz Scholder was an obvious choice to contribute a piece to the collection. His idea of independence marked a divergence with the bald eagle, star-spangled rhetoric inundating American popular culture at the time. Fueled by fury for the injustices against his people and an intense desire to convey the truth, Scholder produced the "Bicentennial Indian". The painting depicts a seated Native American man with an American flag draped over his legs. He has quilled hair and holds a large feather in his folded hands. This was based on the 19th century historical photos of incarcerated Native peoples, who were given only a surplus of American flags to wear after their clothing was forcibly removed. The man's positioning holds a sense of irony: it mirrors the stereotypical portrait positioning of Betsy Ross, the supposed sewer of the American flag under the orders of George Washington.
To Scholder, "freedom" excludes the Native peoples that were murdered, anglicized, and removed from their lands in the name of white colonial "freedom". Francis Scott Key's beloved star-spangled ensign, in an even worse assemblage of ironies, functioned as the literal constraints to Native autonomy. He believes American independence is deeply flawed, tainted, and worthy of criticism. The artist's entire "Indian Series" reflected this theme, and its full manifestation is the "Bicentennial Indian".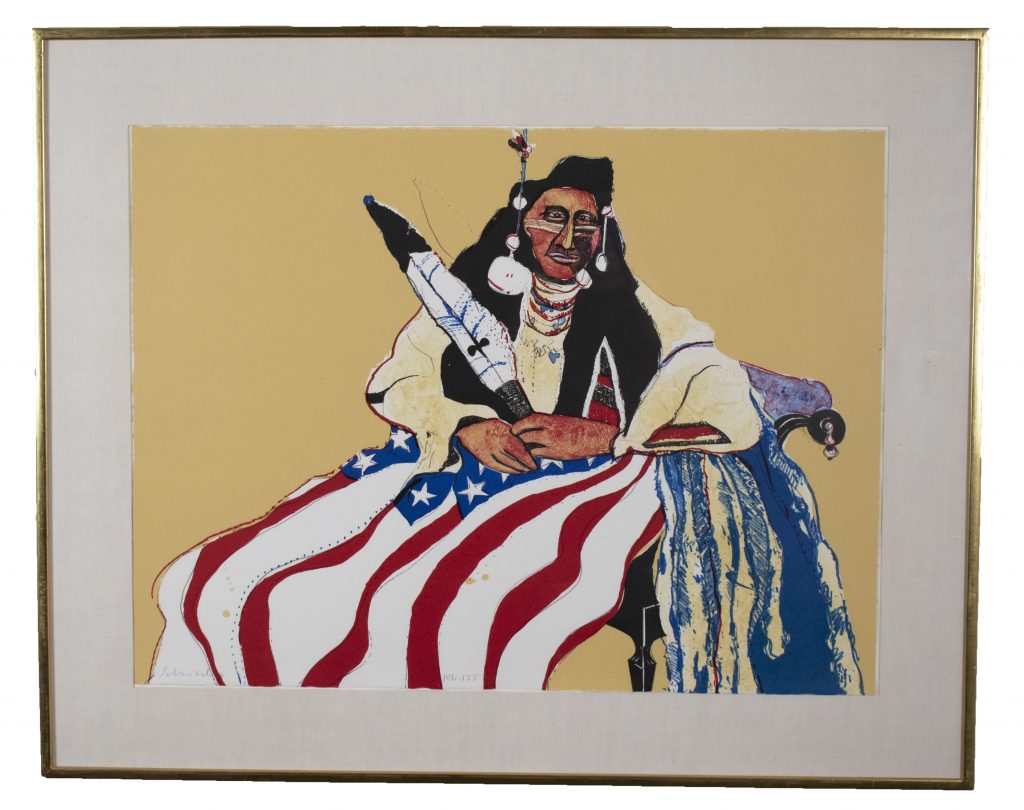 Scholder's work did not come without controversy, however. While he provoked some praise as the originator of "new American Indian art", others felt he was demeaning Native Americans. While those that view his work may disagree, Scholder's paintings pushed comfort zones for American people as they witnessed the raw, grave issues such as unemployment and cultural clashes that Native Americans experience in their daily lives.
Tired of the contention his work created, Scholder eventually moved away from painting Native peoples. In an interview with the Santa Fe New Mexican in 1996, the artist explained that: 
"One finds that whatever you become known for, you have to spend the rest of your life fighting against. The media like to grab you and put some kind of label on you, and that's it. It's really very unfair for any artist who is interested in continually developing and finding out what he is doing."
Scholder's work now resides in famous institutions such as the Museum of Modern Art, the Smithsonian American Art Museum in Washington, D.C., and the Bibliotheque Ncaionale in Paris, France. Though he died in 2005, Fritz Scholder's legacy is alive and well in the United States.
And it even lives here in the Everhart, too. 
Sources:
---
Written by Ericka Pica, Curatorial Intern, Summer 2020 Cohort.