Dr. Isaiah Fawkes Everhart, founder of the Everhart Museum, descended from a family of Dukes, who for 400 years ruled the German Kingdom of Württemberg, before Frederick Eberhard (1697-1751) emigrated to the colonies in 1737. Frederick's grandson was James Eberhard (1760-1852), who served under George Washington as a teenage soldier in the American Revolution. He changed the family name to Everhart and lived to age 93, leaving three sons. The youngest of those sons, also a James Everhart (1789-1863), served in the War of 1812 and following the War, settled in Berks County, Pennsylvania, where he made a living as a farmer. In 1816, he married Mary Magdalen Templin (1797-1869). The marriage produced eight children, the youngest of whom was Isaiah Fawkes Everhart (1840-1911).
Isaiah Everhart was born on his father's farm, called Summit Level, on January 22, 1840. At an early age, he showed an appreciation for nature that would intensify throughout his life. He was educated in Berks County schools before studying Natural Science and Literature at Franklin and Marshall College. Isaiah began studying medicine at the University of Pennsylvania shortly after the start of the Civil War, he served as a medical cadet at the Satterlee General Hospital where he cared for its 3000 sick and wounded soldier patients. Everhart received his medical degree in 1863 and was assigned to the Eighth Pennsylvania Cavalry. The Eighth participated in many major battles in Virginia and Maryland. In February 1865, Dr. Everhart was promoted to Full Surgeon with the rank of Major. In August of that year, Major Everhart was honorably discharged as Chief Surgeon of the Military District of Lynchburg, Virginia.
In the Spring of 1867, Dr. Everhart accompanied his brother James on a five month tour of the Industrial and Artistic centers of Europe. The following year, Isaiah settled in Scranton where he purchased a home near the corner of Franklin Avenue and Spruce Street. He set up a medical practice; served as a staff member of the Scranton State Hospital; was on the first Scranton Board of Health; and was president of the Lackawanna Game and Fish Association. During the anthracite strike of 1871, Everhart was surgeon of the Ninth Pennsylvania Guard. In January of 1871, he married Annie Victoria Ubil (1847-1898). Her family's farm was next to the Everhart Plantation in Berks County. In September of 1873, Annie gave birth to their only child, Edwin Ellsworth Everhart (1873-1934).
Throughout his life, Dr. Everhart devoted much of his time to the study of Natural History and flora and fauna around him, with particular attention paid to the science of ornithology. Shortly after he moved to Scranton, he began assembling an exhaustive collection of birds, animals, woods, and seeds native to the Commonwealth of Pennsylvania with the intention of eventually donating his collection to a scientific or educational institution. When his bachelor brother James M. Everhart (1828-1897) died, Dr. Everhart inherited a large portion of his vast estate. In 1904, Dr. Everhart's immensely wealthy cousin, Benjamin Matlack Everhart (1818-1904), of West Chester, PA, died leaving Isaiah the bulk of his fortune. These two financial windfalls gave Dr. Everhart the means to build and endow his own institution to house his growing collection.
On February 3, 1907, Dr. Everhart announced his gift of a museum to the city of Scranton. Work began immediately on the Isaiah Fawkes Everhart Museum of Natural History, Science and Art, which opened its doors for the first time on May 30, 1908. Dr. Everhart spent as much time as his by-then failing health allowed, ordering and expanding his collection. On April 14, 1911, Dr. Everhart slipped and fell in the Museum fracturing his right hip. He died of complications of this injury at his home on Franklin Avenue in Scranton on May 26, 1911. Four days later, the bronze statue of Dr. Everhart was unveiled in front of the Museum. He had reluctantly agreed to the honor and modeled for the statue, but didn't live to see it placed.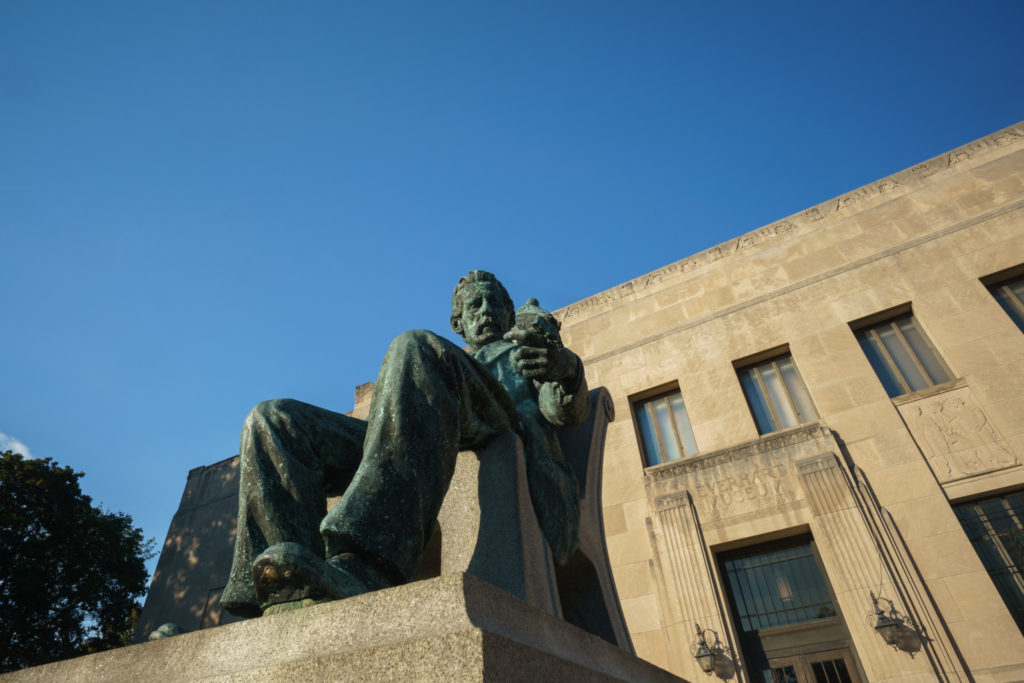 ---
Written by Michael Wisneski, Gallery and Collections Manager.