Did you know that most museums have less than 5% of their collection on display for the public? The Everhart Museum has approximately 18,000 objects in its collection. Of that, the Museum displays up to 1,000 objects, which means that a little less than 6% of the entire collection can be seen by the public on any given day.
A SHORT HISTORY
While this low percentage may be the norm for many modern museums around the globe today, this was not always the case. The first museums started in private homes that often only had a small cabinet or room used to display treasures and oddities collected by the home owner. These "Cabinets of Curiosities," also known as wunderkammer or "wonder rooms," began appearing during the Renaissance and were essentially the precursors to the modern museum. The types of collections exhibited were often encyclopedic in nature and ranged from small statues to natural history specimen to works of art and even religious relics. Collectors would use these "wonder rooms" to entertain visitors with tales of their travels, especially during a time when international travel was not common. As "Cabinets of Curiosities" continued to develop, they became more than just a random assortment of objects and oddities; collectors began to give an order, or hierarchy, to the objects they owned – organizing things by shape, color, size, or likeness. The collector's selection of objects told a particular story of their explorations and how they viewed the world.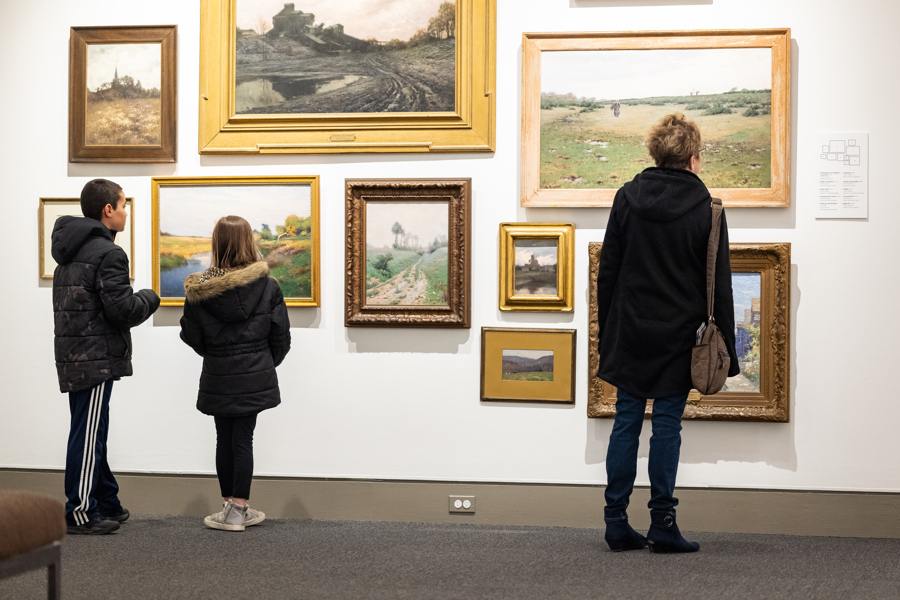 Many of the first "wonder rooms" focused on showcasing 3D objects. The style could be described as crowded or cramped. Two dimensional works of art like paintings were displayed in a very similar fashion. Since the main goal of collectors was to showcase as many objects as possible, paintings were hung in densely arranged groupings that would fill up entire walls with little space in between. This type of display technique is known as "salon style." As time progressed and public museums emerged, this type of overly saturated display transitioned to the display of only a small selection of works at one time. This also likely had something to do with the fact that many institutions now had sufficiently more space to store collections not on view.
EVOLVING DISPLAY TECHNIQUES
This small history of museums shows that the way museums store and display their collections has constantly been evolving. Although despite the changing times, one thing that has remained constant is the desire to have museum collections be as accessible and visible as possible. From this, the concept of visible storage emerged.
The idea of visible storage is derived from the visual appeal of the "Cabinet of Curiosities." Visible storage allows museums to show the maximum amount of objects with minimal interpretation. In visible storage, objects are not typically displayed in the same polished way that we are familiar with in many museum galleries today. Instead, objects are usually packed on shelving or crowded together. Visible storage also gives visitors a behind-the-scenes insight into just how many objects are in a museum's collection and how museums store and care for them. Additionally, it provides access to parts of a museum's collection that would have otherwise been inaccessible to the public.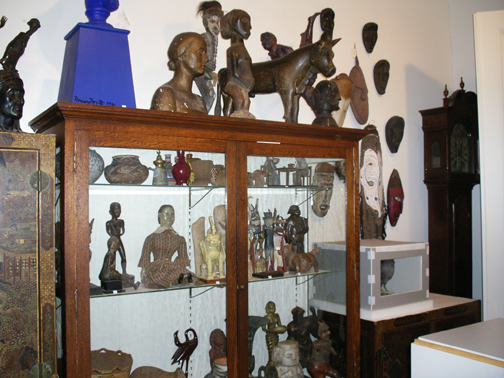 The Everhart's visible storage contains a variety of works from both the Museum's fine art and natural history collections. From the moose trophy head to the Roman floor mosaic to the Tang Dynasty Guardian Figure, the Everhart's visible storage gives each visitor a peek behind the curtain and a glimpse into the Museum's encyclopedic, eclectic, and sometimes curious collection.

---
Written by Francesca Saldan, Curator of Collections and Exhibitions.